Bio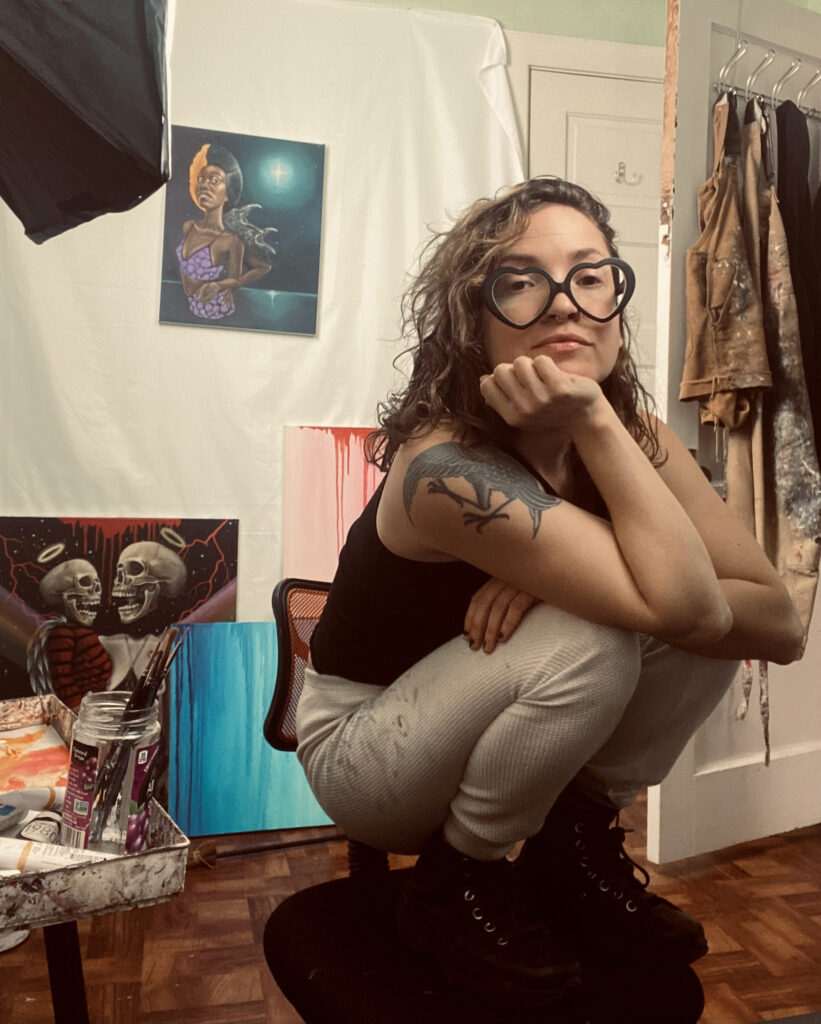 Alexis Price is an American contemporary artist exploring concepts of Tarot, consciousness, and the female experience. Alexis also focuses on addiction, spirituality, and healing, finding meaning and interaction between each concept. She primarily works with oils to create her bold and sexually charged portraits of goddess like women and beasts. Inspired by juxtaposition and duality, Alexis fuses humans and animals, light and dark, as well as the organic and inorganic. She seeks to dig at deeper truths about self and healing, finding inspiration in personal catharsis, unnamed muses, and our mounting local and global crises.
Alexis Price was born in Philadelphia, PA (1984) and received a BA in Modern Dance from Meredith College (Raleigh NC) in 2006. Alexis is a self taught painter and visual artist. In Raleigh Alexis worked with many local artists, business and Galleries showing work and engaging in large projects including a large scale public installation for Artspace, and a city bus design for the City of Raleigh.
In 2016 Alexis moved to New York and established herself as a Brooklyn artist working with local galleries, curators, artists, and schools. Alexis created work for a large scale installation project for the Yonkers Art Fair (Yonkers, NY), and contributed to BX Spaces Mural Project (Brooklyn NY), and taught art to youth at Kids Canvas (Brooklyn NY).
Alexis has also worked extensively creating artwork for bands, record labels and music venues. This includes mural work with locations at The Brooklyn Beer Garden (Brooklyn NY) and The Wicked Witch (Raleigh, NC). Alexis Has also made many designs for bands and music labels including Le Butcherettes, Sarah Shook And The Disarmers, Bat Fangs, Braid, The Pour House, Bifocal Media, and Hopscotch Music Festival.
Alexis has a considerable solo and group show history including shows at Art Basel Miami (Miami Florida), BX Spaces (Brooklyn NY), Gristle Tattoo (Brooklyn NY) SHAG (Brooklyn NY), La Bodega Gallery (Brooklyn NY), FEED Gallery (Raleigh NC), The Pink Building (Raleigh NC) Underground Gallery (Portland Oregon) and many more. She has also been featured in many online and print publications such as WOW x WOW, Ladder and Key, and The News and Observer.